Aftershock is a DLC map.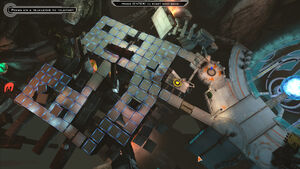 It is a wrecked version of the
Mine
map.  In between and during waves, a black and enormous creature can be seen walking to the left of the are where the wave spawns.  It shakes the entire map and makes a noticeable noise while doing so.  The game's files name it Tilgash the Conqueror, and it reappears in the final level of Sanctum 2.
Ad blocker interference detected!
Wikia is a free-to-use site that makes money from advertising. We have a modified experience for viewers using ad blockers

Wikia is not accessible if you've made further modifications. Remove the custom ad blocker rule(s) and the page will load as expected.