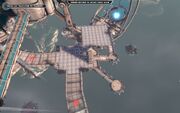 Arc is the third map available to players; unlocked after beating Bridge.
Description
Edit
Arc is aesthetically similar to Bridge. It seems to be some sort of floating platform in the sky.
Arc is layed out as two large squareish sections connected in one of their corners, and two side paths also connecting them. No blocks may be placed along the side paths. The spawn points are near to one of the corners of the first square, in the southwest, while the core is located at the opposite corner of the second square in the northeast.. The default teleport location is located on a slightly raised platform near the center of the grid, which can make for a good sniping location.
There are two ground spawn points, one to the south and one to the west. They are both located at the ends of long bridges. The southern one dips down below the horizon, and is very straight, Monsters coming from the western spawn point can be seen much sooner. The southern path is much straighter, and as a result, will be crossed by chargers much more quickly.
The air spawn points are actually located below the playing field, which causes the flying monsters to 'rise up' along the sides. This also means that players will not get much of an opportunity to snipe at flying monsters from a large distance, as compared to Bridge.
See also Arc Maze Designs for discussion and examples of Arc layout designs.
The following is a list of towers available on Arc in single player:
Achievements
Edit
Safe at Last

Survive all the waves on Arc.
A Walk in the pARC

Survive all the waves on Arc on Insane difficulty.
Fully Covered

Build one of each Tower on Arc.
| | |
| --- | --- |
| | Meet the President on Arc. |
| | |
| --- | --- |
| | This is a secret achievement, can you unlock it? |
| | |
| --- | --- |
| | Shoot 12 Strawberry Fishes. |
Easter Eggs
Edit
Klon 116 (Immersion) [1]
Single-player waves
In single player, the enemies that spawn are predefined. The following table shows the enemies that are encountered and how many resources at the end of each wave. If a checkpoint exists at the beginning of the wave, then its number will be shown in bold.