Christmas is a holiday-themed map from the "X-Mas Carnage" DLC that can be downloaded for free.
Description
Edit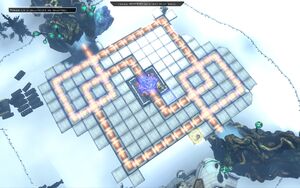 The map is set in a snowy winter landscape, surrounded by wooden fences, with a large Christmas tree in the center of the map instead of the Core. Enemies attack from two sides here but have to surround the map once before reaching the tree, making this map less difficult to beat for a single player than Glade.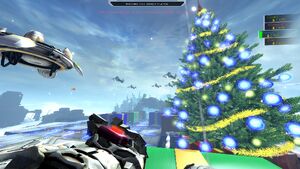 Enemies follow a predestined path here that the player can not influence with Block towers. Instead he can build on each side of the lane and in the whole central area around the tree, though he should dedicate some of those places to towers that defend against the airborne threat as well. It should be noted, though, that the player is able to build fields in the path of the enemy here, as opposed to
Complex
, which also has a predetermined path.
Six of the following towers can be chosen for this map on single player:
Achievements
Edit
Festivus for the rest of us

Collect 10 presents.
A Sanctum-remixed version of Jingle Bells is played as background music and occasionally can you hear some voices sing the refrain, possibly the developers.
In construction phase, after finishing Wave 4, you will hear Santa "HO HO HO" and see him flying across the sky. In combat phase, you can shoot him to drop some presents which are important for an achievement. He will occasionally show up on waves after that.
Some walkers will be wearing Santa hats. When killed they drop presents for the achievement "Festivus for the rest of us"