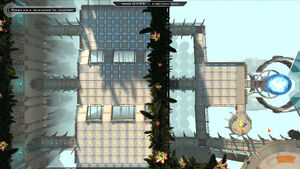 Facility is a map that was released on June 8, 2011. It is the fifth map released and can be unlocked in single-player after completing Complex.
Description
Edit
Facility is a map where creatures spawn in the six locations on the west side of the map and must travel eastward through three areas that converge into a fourth one just outside of Sanctum's core.
Ground creatures spawn in three locations, which are across the western bridges. Air creatures spawn in three additional locations, which are above the three ground spawn points.
See also Facility Maze Designs for a discussion of layouts and maze designs.
The following towers are available when playing Facility in single player:
Easter Eggs (spoiler)
Edit
Upstairs room with developer beta gameplay
Hidden achievement room (Singleplayer round 10, Multiplayer round 20)
Single-player waves
In single player, the enemies that spawn are predefined. The following table shows the enemies that are encountered and how many resources at the end of each wave. If a checkpoint exists at the beginning of the wave, then its number will be shown in bold.