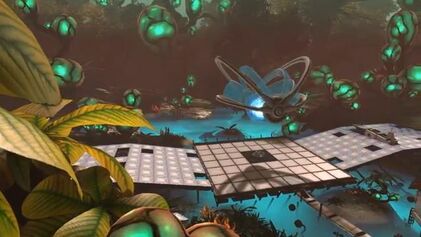 Glade is the fourth map available to players, added for free, with the May 12th, 2011 update.
Description
Edit
Glade is set in a Jungle type setting with two separate enemy spawn zones (four spawn points total, two per side) and two separate tower zones. To further add to the chaos, each of the tower zones have missing tiles or a raised platform to force you to mix things up (as not to emulate Bridge).
Unlike other maps up to this point, Glade has the core floating mid-air with an air jet propelling land-based creatures into the core if they can reach the center of the map.
See also Glade Maze Designs for a discussion and examples of layouts for Glade
The following is a list of towers available on Glade on single player:
Easter Eggs (Spoiler Warning)
Edit
Single-player waves
In single player, the enemies that spawn are predefined. The following table shows the enemies that are encountered and how many resources at the end of each wave. If a checkpoint exists at the beginning of the wave, then its number will be shown in bold.