Home
Talk

0
97pages on
this wiki
Welcome to the
Sanctum Wiki

97 articles

since March 29, 2011

The encyclopedia about Sanctum
that anyone can

edit

.

Help us out and contribute!
This wiki is intended to help players of Coffee Stain Studio's Sanctum to find the info they need.
What is Sanctum?
Sanctum is a first-person shooter tower defense made by Coffee Stain Studios where you take the role as Skye, an elite soldier sent out to protect her home town, Elysion One, from hordes of mysterious alien creatures.
To succeed you have to construct and upgrade defensive structures. What makes Sanctum unique from other tower defenses is that when the havoc starts, you jump right into the action with your own weapons and play a key role in the defense. Sanctum has taken the best features from first-person shooters and tower defense games to create something totally unique.
Spoiler Warning
This wiki contains detailed information with hints and strategies about Sanctum gameplay which might affect your Sanctum gaming experience.
Obvious spoilers like hidden easter eggs, optimal map designs, etc. are marked "(Spoiler warning)".
Maps
Creatures
These alien creatures that are called Lumes will stop at nothing when trying to overrun Elysion One. The Lumes come in varying shapes and sizes and some have additional abilities. Each of them has a bright orange Weak Spot.
Ground

Walker
Big Walker
Tank
Charger
Runner
Hoverer
Soaker
Blocker
Bobble Head
Spitter

Air

Dodger
Spore Pod
Glider

Bosses

Israphel
Towers
Towers built by Skye are Elysion One's primary defense and greatest hope against the invading aliens.
Free

Block
Televator
Gatling
Lightning
Scatter Laser
Mortar
Slow Field
Anti-Air
Holo
Amp Field
Kairos
Penetrator
Violator
Killing Floor
Accelerator
Drone

Speculated
Weapons
Skye has quite an arsenal at her fingertips. These weapons enable Skye to fight off the aliens directly.
Available
Speculated
Game modes
Storyline
Sanctum offers a budding storyline that is expanded with every update. Most current information can be found in secret areas in several maps.
There are also official snippets of information released by the developers in a Web Comic.
Characters
Names and Places
Strategy
This section discusses strategies for different mazes. If you play the game for the first time and don't want to spoil your experience of finding the right strategies yourself, skip this section!
Maze Designs
Walkthroughs
And more!
Edit

Indie Game Wikis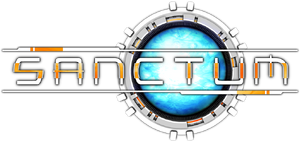 Poll
What is your favorite non-DLC map?