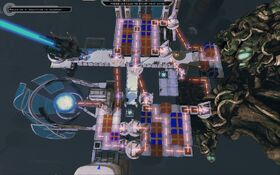 This page is for the discussion of layouts and designs of block towers and turrets for the Slums map.
Slums is distinguished from other maps by its network of teleporters. The level is made up of four platforms connected by fourteen teleporters. Individual platforms are rather small, and so using more teleporters is at odds with increasing the number of turns. Airborne enemies enter from the same direction as ground enemies, both above and below the mountain, and in general can be picked off using towers on the small platform that is not accessible by teleporter.
Ad blocker interference detected!
Wikia is a free-to-use site that makes money from advertising. We have a modified experience for viewers using ad blockers

Wikia is not accessible if you've made further modifications. Remove the custom ad blocker rule(s) and the page will load as expected.