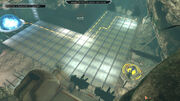 Yogscave is a map that was released as part of the April update.
It was in the files for the game named "Below", but it wasn't officially released under that name. The map was renamed to "Yogscave," as a reference to the characters in the map grabbing at attention.
Features and secrets
Edit
Features the Yogscast (Simon Lane and Lewis Brindley) having conversations and commenting on the player's progress.
Haigen from Sanctum 2, sits at the back of the map near, what appear to be, shipping containers filled with "Joffo Cakes."
Israphel, a new boss, appears on the final wave.
Single-player waves
In single player, the enemies that spawn are predefined. The following table shows the enemies that are encountered and how many resources at the end of each wave. If a checkpoint exists at the beginning of the wave, then its number will be shown in bold.
Achievements
Edit
Joffo Defender

Survive all the waves in Yogscave.
Isra-Felled

Survive all the waves in Yogscave on Insane difficulty.
A Future Friend

This is a secret achievement, can you unlock it?